Stopping Crime Before It Strikes
Since 2002 Force Protection Services, Inc. has been patrolling, preventing and responding to criminal activity in Tulsa, Muskogee, Oklahoma City and McAlester. Our secret is in our staff: we hire only the most qualified candidates. All our security officers: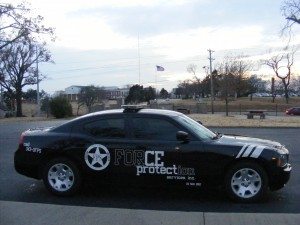 Hold Local, State and Federal Background Clearance
Are CLEET Certified Armed and Unarmed
Are Required to Pass a Strict Weapons Re-Qualification Course Semi-Annually
Must Perform 8 Hours of Continuing Education Bi-Annually
24/7 Service
Our central dispatch center ensures there are always officers available 24 hours a day, 7 days a week to counter security challenges. We take advantage of the latest advances in technology to monitor suspicious activity and apprehend offenders.
Clients both large and small trust Force Protection Services, from the Department of Interior to local businesses and apartment facilities. So whether your organization requires armed patrol, on-site security or alarm response, you can have peace of mind that we will protect your interests.
FPS Standards
Force Protection Services, Inc. is CLEET-certified through the State of Oklahoma and offers workers compensation in addition to maintaining vehicle insurance and possessing $1 million in General Liability insurance.
Secure Your Property
Contact us through the web form or call us at 918-343-0377.
---
The information displayed on this website is for marketing and informative purposes only. Force Protection Services, Inc. is not legally responsible for the actions of individuals based on the advice and tips provided on the site or blog.